There are so many times throughout the day that I think of the people of Haiti. The tragedy over there is truly almost too horrific to even imagine. I know that I want to help out however I can, and we thought maybe y'all would want to help too. There's a creative/crafty website called Indie Fixx, and they are doing a fundraiser/silent auction to raise money for those affected by the earthquake. If you want to help, this is fun way to do it. Visit the Indie Fixx website for more info and to get started.

Here are some more reputable organizations that you can donate to in order to help bring aid to those in Haiti:
–American Red Cross
–Doctors without Borders
–Compassion International

Somehow I stumbled onto the realization that there are so many orphans in Haiti right now. And some of them have families here who are waiting for them to come home, as the adoption process continues. But obviously these families are now really desperate for their children to come home, regardless of where the adoption is in process. This music video is from one father who is trying to get his son home from Haiti. Visit their blog (click on the yellow button below) to see how you can help!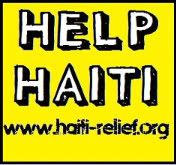 ---